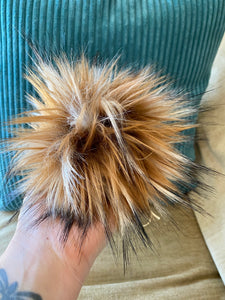 I like big poms and I cannot lie!  Jazz up your beanie with one of these gorgeous fun and funky faux fur poms!  This pom has reddish brown undertones with long tips of blonde and black. Due to the handmade nature of this item, color placement will vary. A satin nylon cord is attached with 8" long ties and a wooden button is included to secure the pom to your beanie.  The pom measures approximately 8" tip to tip.

These are made to order.  Please allow 1-2 weeks processing time.  Thank you!

*buttons are not recommended to be used on hats for small children as they pose a choking hazard.
*photographs are taken as accurately as possible, however different screens may alter the color appearance slightly.